I draw on a reservoir of user-orientated Applied Theatre techniques to customize a program for the client based on

and on how best to proceed with the issues at hand.
The Interactive Theatre techniques are Ideal for
Education for Behaviour Change
Researching issues in an organization
Researching issues in a community
Conferences
Events
End of Year Functions
Change management (rollout to scale)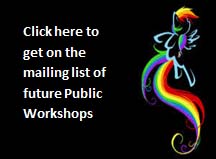 Some of the techniques are:
Forum Theatre

(see below)

Legislative Theatre

is similar to Forum theatre however participants are facilitated further to resolve on principles and/or strategies

Rainbow of Desire

is a reservoir of psycho-social techniques where people explore characteristics of their frustrating interactions with others. Awareness of self & others is enhanced through extremely creative and natural role-play stimulating individual and communal wisdom.
I use any combination of these techniques for small or large group facilitation
The following Forum Theatre interactive performance was developed by the rural community of Nkanyakude by water personnel and community members for the Department of Water Affairs International Conference investigating "Water and Sustainability".
The video clip shows how Forum Theatre works: There is a warm-up before a typical problematic scenario is performed for the audience. The scenario/s show common interactions people consider problematic. When the play's performed again, any audience member can stop the play and intervene by replacing one of the actors to try to deal with the situation in a more effective way. In fact, as participants intervene again and again, audience members discuss the interventions. Participants access and explore more and more effective options as they gain more and more insight in the synergy of their reflections.
The process is designed in any number of ways to enable a deeper understanding of, and ways to deal with, challenging interactive issues
Personal leadership and effective team building is significantly enhanced
THE Forum Theatre PROCESS
The original interaction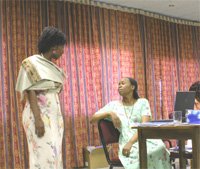 THEN: A series of interventions alternating with discuss where insights are shared by participants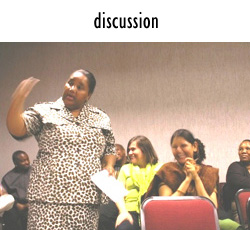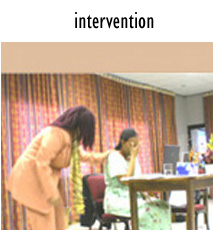 ...and so on

These photographs are of the United Nation's Country Team in Botswana
For a Weekly Mail article on a Forum Theatre in the community project click here
ALL THE INTERACTIVE THEATRE PROCESSES ARE BASED ON
THE FOLLOWING MODEL OF HOW WE LEARN AND MAKE PROGRESS IN ACHIEVE OUR GOALS:
THERE IS AN UPWARD SPIRAL OF INSPIRATION, INSIGHT,
GROWTH & ACCOMPLISHMENT.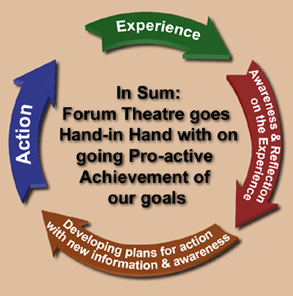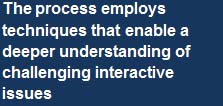 INTERACTIVE THEATRE IS MULTIDIMENTIONAL – IT WORKS SIMULTANEOUSLY ON THESE DIFFERENT LEVELS -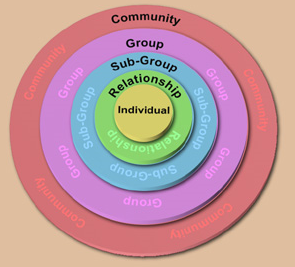 Interactive Theatre enhances both our sense of being an individual with initiative, and our sense of belonging to a group
More reasons why Interactive theatre is so effective:
Interactive Theatre takes account of the fact that:

The Mehrabian Study (1981) established that Communication involves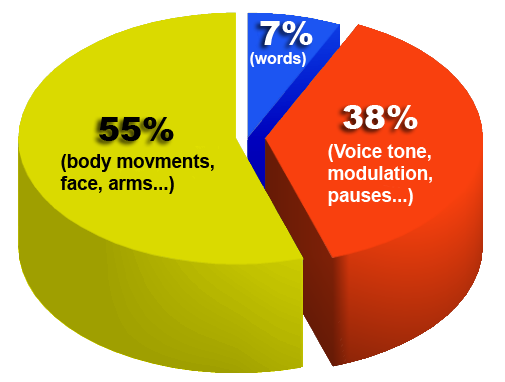 Participants are engaged on all these levels, and become involved and motivated to realise the latent potential in challenging change dynamics and problems they experience.

IN SUM:

All sorts of adaptations are possible: For example, I was Workshop Facilitator, Team Coach, involved in design & content development for both the 1st and the 2nd 13-Part series (26 episodes in total) of SABC2's "Drawing the Line" (on Ethical/Moral Dilemmas) - Nominated for Best Game Show.

A selection of techniques, and debriefing methods and processes are integrated and incorporated into the programme tailored to clients' needs and desired outcomes